PRODUCTS


Draft Chambers


Fume Canopies


Local Extractions


Ventilation Syst.


Laboratory Furniture


Fume Cupboards


STERILE CABINET


Shelving


Exhaust Discharge Systems


Service Units and Shelfs


Balance Tables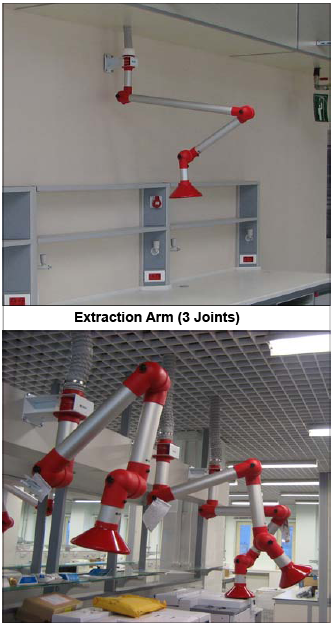 Local Fume Extraction (Extraction Arm)
Local Fume Extraction (Extraction Arm)
these units are flexible extraction systems. Within a certain radius they can be moved in different positions. They heave several joints to allow them to move to left/right, forward/ backward, and up/down on the bench.
They are made of polypropylene and aluminium. The pipe diameters can be 50, 75 or 100 mm depending on extraction required. They can be installed on the wall or through a support system on island benches. One of the most common use is to have them installed above gas chromatographs and similar equipment.